Tagging your posts in WordPress can be a hassle or boring. Some of us even miss to tag our articles properly. What do you do to solve the tag issue?
Automatic Post Tagger is a free WordPress plug-in that automatically tags your WordPress posts with pre-defined tags. It can make posting convenient for those who blog frequently and hate the tagging part. This plugin will add relevant tags automatically when a post is published or updated.
How it Works?
Once you install the plug-in, you have to create a list of tags with related words for each of them. Using your rules, this plugin will automatically add tags to posts by detecting the keywords in the title, content and excerpt.
For example, you can add the tag "WordPress" to a post if any or all of the following keywords are found: WordPress, WP, Blogging.
The plug-in also lets you to set a maximum number of tags allowed for a post.
Bulk Taggging
Automatically tagging of posts is not all that this plug-in does. You can use it to bulk tag your existing posts. You can also import or export your tags list for use on other sites.
Configuration
Install and activate the Automatic Post Tagger plugin. Now, you will have a new item under the Settings menu: Automatic Post Tagger. Go through the configuration setting options, which are very much self explanatory.
Like adding tags and categories, you can add tag name and keywords for this plug-in from its settings page as well as your posts composition panel.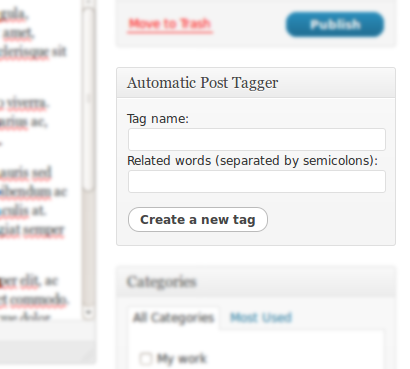 Features of the Plug-in
Automatically adds tags to posts according to their title, content and excerpt
Tags are added to a post also when different user-defined keywords are found (example: tag "cat" is added if you assign to it words "cats, kitty, meow" and they are found in a post by the plugin)
Smart wildcard representation of any alphanumeric characters for related words (pattern "cat*" will match "cats" and "category", pattern "c*t" will match "cat" and "colt" etc.)
Configurable maximum number of tags per post (APT won't add more tags than you want)
Bulk tagging of already existing posts
Supports importing already existing tags, creating and importing backups