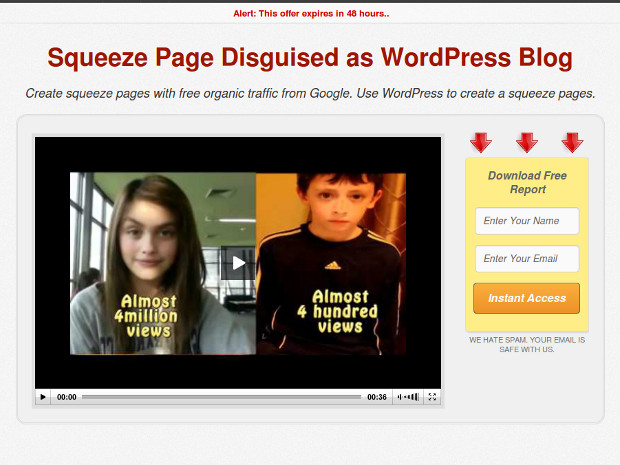 Google loves WordPress and fresh content, and it hates squeeze pages. What if you could disguise your squeeze page as a blog? Instant Google love and free organic search traffic to your squeeze pages. RIGHT!
With Squeeze Master WordPress theme, you can create professional squeeze pages that are part of the header of a blog. For Google, the website is as a regularly updated blog while visitors see a huge squeeze page. Is it against Google's webmaster policies? Not really. We are not hiding anything from Google.
Squeeze Master is an easy-to-use WordPress theme with "Theme Options" and "Squeeze Page" custom posts that make it very intuitive to create your squeeze page.
10 layout options
Text & video squeeze pages
Light and dark color scheme
Embed videos using JWPlayer (Commercial use requires a licence)
Integrate Aweber by just adding list name
Add any mailing list service
Add content using the standard WSIWYG text editor
Theme Options Page
Squeeze page with/without blogs
Easily add codes such as Google Analyics
Download Page Template (Offer downloads)
Thank You Page Template (Share message with your subscribers)
GNU General Public Licence
Premium WordPress Themes